Social Media: The Upside of Giving Up Control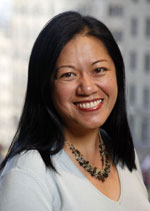 Charlene Li, author of social media bestseller Groundswell and founder of the Altimeter Group, will share a sneak peek at material from her upcoming book, tentatively titled The Upside of Giving Up Control. This widely-anticipated book will discuss the challenges and benefits for companies willing to relinquish control to their audience as they make use of social media.
Attendees to this event will
See advance material from the book, which will not be released until May 2010
Get a sneak peek at an online diagnostic tool Charlene will be developing in conjunction with the book
Be part of the book's development – in the true spirit of social media, Charlene will be using audience interaction at this session to refine and enhance the book's final content.
Please register early as we expect this event to be sold out.
EVENT DETAILS
Date: Monday Sept 14th, 6:00 – 8:00 PM
Michaels Shoreline Restaurant
2960 Shoreline Blvd.
Mountain View 650-962-1014
6:00 – 6:15 Reception/Networking
6:15 – 7:00 Dinner
7 – 8pm - Presentation & Q&A

$40 each HBSA/NC Members and one guest, $60 Non-Members
Organized by:
Gillian Verga, '93, Social Media Chair
Adrian Ott '87, Strategy & Growth Roundtable Chair
About Charlene Li
Charlene Li, '93, is the Founder of Altimeter Group and co-author of the business bestseller, "Groundswell: Winning In A World Transformed By Social Technologies".
Charlene is one of the most frequently-quoted industry analysts and has appeared on 60 Minutes, The McNeil NewsHour, ABC News, CNN, and CNBC. She is also frequently quoted by The Wall Street Journal, The New York Times, USAToday, Reuters, and The Associated Press. She is a much-sought after public speaker and has presented frequently at top technology conferences such as Web 2.0 Expo, SXSW, Search Engine Strategies and the American Society of Association Executives.
Prior to founding Altimeter Group, Charlene was a Vice President and Principal Analyst at Forrester Research. Charlene is a graduate of Harvard Business School and received a magna cum laude degree from Harvard College. Among her many awards, Charlene has been named by Fast Company one of The Most Influential Women in Technology and by NowPublic as one of the 50 most influential people in Silicon Valley.